We are looking forward to our launch event post lockdown and hope to be bringing you at least annual events in the future.
Real Food for Health – An Education Event for ALL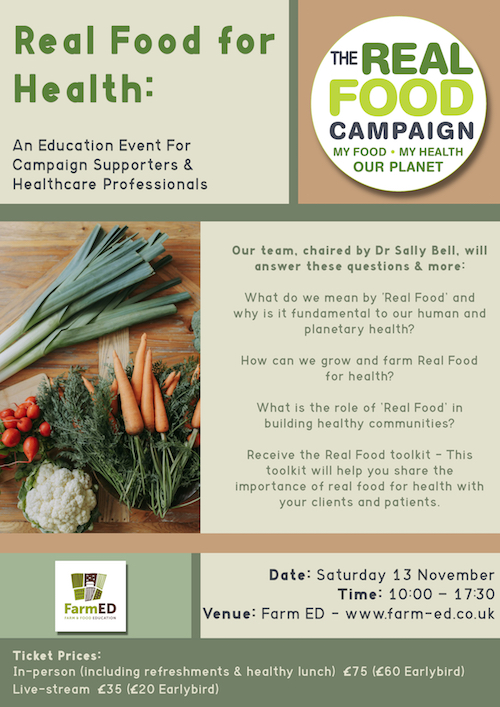 Spend the day with the us to unpick what we mean by 'Real Food', and why we believe it is vital for human and planetary health.

Nurturing our soil not only grows nutrient-rich food that supports our long-term health, but also improves biodiversity and captures carbon to reverse environmental damage.

We will explore how real food can create healthy communities which support our well-being, as well as understand why not all food is real. You will come away with our campaign toolkit to take our definition into your communities, and get everyone eating real food!
Agenda:
10am: Arrive for refreshments
10:30: Welcome to the Real Food Campaign and FarmED with Dr. Sally Bell 
11am: Farm Walk with FarmED
12pm: Communities with Philip Sharrat, and Food Equity with Ped Asgarian 
12.45pm: Catered Lunch 
2pm – 3.30pm: Nutrition talks and panel with Dr Sally Bell, Alex Laird, Lucy Williamson, and Lawrence Woodward
3.30pm: Break
3.45pm: Is it Food? with Emma Chase & In the Kitchen with Izabella Natrins
4.20 pm: Thank you and Goodbye
4.30 – 5.30pm: Tea coffee cake and networking
Speakers: 
Sign up for our Newsletter to get a £10 discount
Our earlybird rates are now passed but if you haven't already signed up for our newsletter you can get a £10 discount by doing so.