Webinars

Soil to Stomach
Pesticides
Children's Health
Past IP Events

Real Food for Health – An Education Event for ALL
 November 2021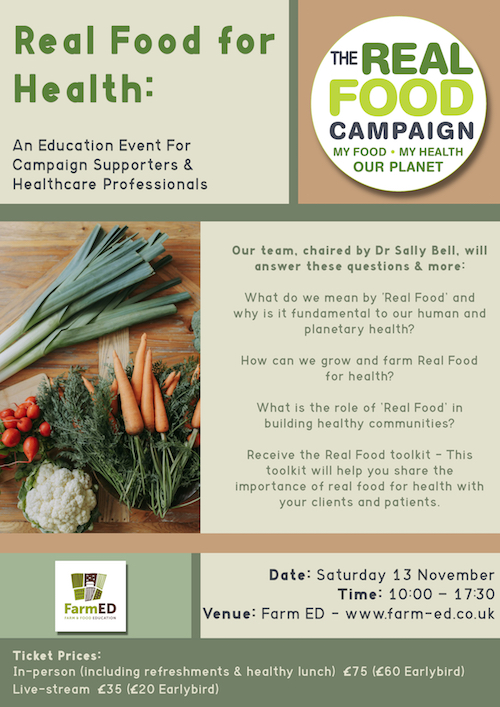 Speakers: 
Food on Prescription Conference
OCTOBER 2019
Over the past few years, the College of Medicine's Food Conference has become the leading UK event on food, lifestyle and medicine and has become a 'must attend' for healthcare professionals, who want to know how to create a healthier future for patients, communities and the nation.
The Conference will see leaders in food, lifestyle and medicine speaking, including The Diet Myth author Professor Tim Spector, Patrick Holden from The Sustainable Food Trust and cancer expert Dr Catherine Zollman.
The focus was on:
The latest insights on the biome and the relationship of food to our major lifestyle conditions
Supporting healthy eating throughout our communities and nation
Transforming the clinician to patient relationship between GPs
Creating a stronger coalition of stakeholders to reverse the current situation whereby those who most need healthy food are the least likely to be able to either access it or want it.
Oxford Real Farming Conference
The 2020 Oxford Real Farming Conference (ORFC) will be held in the St Aldates Church and Oxford Town Hall on 8th & 9th January. As always, this unique gathering of the UK's sustainable and organic food and farming movements will offer a practical mix of on-farm advice, showcasing new techniques for best practice in agroecological farming, as well as broader discussions on what is needed for creating real change in our broken food system.
Real Food Gathering 2019
A marquee in the wilds of Glastonbury Valley, Somerset, in the midst of the howling gales gifted from Storm Hannah, was a fitting site for the first Real Food Gathering.
Hosted by the British Holistic Medical Association, around 50 passionate – hardy! – and influential individuals met to kick off a coalition of parties committed to putting the promotion of sustainable agriculture, lifestyle and diet at the top of the agenda. ANH-Intl has long been campaigning, educating and raising awareness around sustainable approaches to healthcare, which starts with the soils in which our foods are grown and on which our livestock graze.
Despite wondering if we or the marquee would survive the relentless 50+ mph winds, it was a privilege to be part of the coalition's first conversation about the healing power of the relationship between soil, soul and society.