Benefits of eating local
Knowing where our food comes from, how it was grown or raised, is much easier when buying local. You can talk to the producer or supplier and be assured of the quality.
Buying local, seasonal produce supports local farmers and local jobs, helping to strengthen our local economy and our community.
Buying local also helps to reduce greenhouse gas emissions and reduce the waste that comes hand-in-hand with large-scale food production, packaging, storage, and transport.
"If fresh food is necessary to health in man and beast, then that food must be provided not only from our own soil but as near as possible to the sources of consumption. If this involves fewer imports and consequent repercussions on exports then it is industry that must be readjusted to the needs of food. If such readjustment involves the decentralisation of industry and the re-opening of local mills and slaughter-houses, then the health of the nation is more important than any large combine."
Lady Eve Balfour, founder of the Soil Association, 1943
Ideas to help you eat more local (& seasonal food)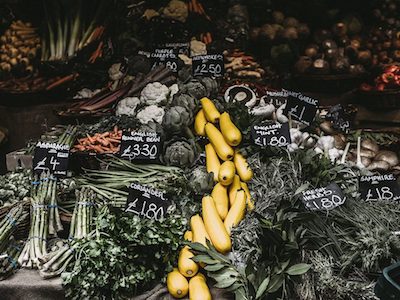 Why not check out your local Farm Shop or Farmer's Market.
Join a local Box Scheme…
Grow your own…
There will be more on all of this soon in our resources section.
Eating local food also benefits our community. For more on this see our community page
See our Blogs for more on Local and Seasonal issues and ideas