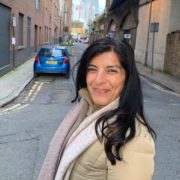 Aahuti Rai
Social Entrepreneur & Investor | Director | Executive Coach
Aahuti is leading a social enterprise which is currently in the startup phase, to take wellbeing programmes into local communities, focusing on young adults and young families, in partnership with schools, charities and small businesses in the same locality.  She is also an Executive Coach, supporting owners of conscious businesses in the health and wellness industry, to succeed in delivering viable and ethical products and services in the health sector.
Aahuti is also a Partner of an established consulting practice, Four Points Consulting Ltd. and has proven skills in designing and implementing strategic change which over the past 25 years have been applied in a corporate context helping large organisations clarify their vision and mission and working with senior executives and boards to deliver successful performance improvements.  
Aahuti's personal journey over several decades has taken her places which have heightened her passion for health creation and to support systemic change in a manner that is sustainable, accessible,  and holistic of all solutions and interventions. She is an active advocate of health optimisation not just in support of individuals and communities, but in particular how we change our entire health delivery system – something that is so urgently required. 
More ..