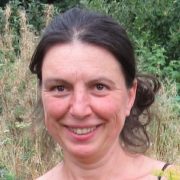 Sara Melendro BSSc MA
Organic Farmer & Food Activist.
Sara, with her partner, runs an organic market garden following an agroecological approach with a strong emphasis on working with nature to regenerate the land and produce nutrient-dense food.
Sara is an active and founding member of Harvest Workers' Co-op, a  co-operative working in its local community to increase understanding of the social, environmental and health implications of food and farming through a wide range of workshops and community events.
Sara is interested in the interconnections between a sustainable farming system, nutritious and health-giving food, resilient communities and a fair economic system.  She works raising awareness about these issues amongst the public and campaigns for policies and strategies that support good farming and healthy food.
More ..