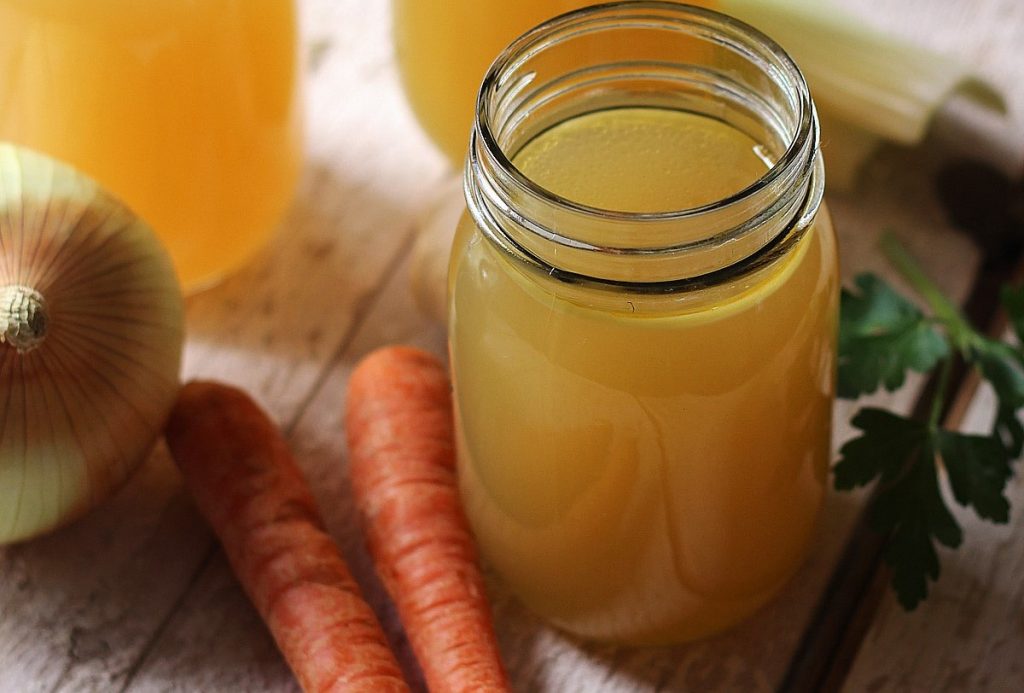 With COVID-19 now a pandemic and public and policy measures underway perhaps we are wondering what else we can do to prevent ourselves or our loved ones from becoming ill. 
A healthy immune system will make all the difference in how we respond to an infection. And eating all the nutrients our immune system needs to function properly is possibly the most important thing we can do to protect ourselves in addition to the NHS guidance.
Chicken Soup is a traditional remedy during convalescence which also helps boost immunity and decrease symptoms of respiratory infections (e.g. coughs, colds & flu), but not all chicken soup is equal. 
The basis of a healing soup is bone broth, made from organic, free-range or fully pastured chicken carcasses. The bones and cartilage are high in the protein collagen, which is high in the amino acid glutamine which is needed by immune cells to proliferate and to produce important chemicals. 
Chicken and other meat is high in carnosine, a dipeptide, which has been shown among other health benefits to significantly reduce lung injury & death in Swine Flu. 
Garlic and onions have long been used as traditional remedies to help fight off and treat respiratory infections. The active compounds which can be smelt on our breath are removed from the body by the lungs. So if we were to rub a clove of garlic onto our feet (perhaps crushed in some oil) then we would still have garlic breath and it will be helping to fight viruses and bacteria in our lungs on the way out. Onions are also high in quercetin which has been shown to reduce susceptibility to influenza as well as being useful for allergic symptoms like hayfever. Choose the most pungent form you can manage and for additional protection eat some raw!
Mushrooms are high in beta-glucans and if exposed to sunlight (leave on the windowsill) also relatively high in vitamin D both of which boost the immune system. Mushrooms such as Shiitake & Reishi have long been used for this purpose but all mushrooms have these though in varying amounts so use what you can get hold of and use the stem too as these are often higher in beta-glucans. 
Extra virgin olive oil has anti-viral properties so it is the oil of choice for gently frying or sauteing the onions and mushrooms. 
Turmeric & Ginger are anti-inflammatory and also have some anti-viral properties. Ginger can also promote sweating (diaphoretic) during fever which will help bring down a temperature naturally. 
Thyme is excellent for coughs and can be used as a tea or syrup as well as in food recipes. It is best used fresh, as the dried herb loses a lot of it's flavour & smell which comes from the active volatile (essential) oil, and is easy to grow in a pot or the garden.
Chili will also aid sweating as well as having some anti-viral and immune-boosting properties. It can also help with bringing up mucus and may help small airways (bronchi) to dilate in asthmatics. 
And finally, live yogurt with its immune-boosting probiotics is added at the end.
Go to recipe: Immune-boosting Chicken & Mushroom Soup
Of course, there are many more healing foods and herbs and more may be coming in future posts but just one more for now:
Liver (organic or grass-fed) is a superfood and is high in many nutrients but notably vitamin A which is extremely important for a healthy immune system. 
Finally don't forget other self-care strategies including sleep, relaxation and getting out into nature which are all important for health including a healthy immune system. 
IMPORTANT NOTICE
The information in this article is for educational purposes only and should not be construed as medical advice. If you are experiencing any symptoms of illness, or consider that you might have been exposed to the coronavirus, follow the advice of your health authority [the UK's NHS advice is fairly detailed and useful wherever you may live]. This will typically mean staying at home and avoiding close contact with other people.
Do not go to a GP surgery, pharmacy or hospital and, in the UK, use the NHS 111 coronavirus service to get advice on what to do.
About the Author: Dr Antonia Wrigley BSc (Nutrition), MBBS, dip Phyt, MRCGP, AFMCP
Antonia, the founder of The Real Food Campaign, is a qualified doctor and herbalist with a degree in Nutrition and further education in Functional Medicine. 
Passionate about making healing potions from a young age she studied medicine initially then wanting to know more about creating health rather than just treating diseases she went on to explore other healing traditions. Over the years she has tried to integrate all the different and often conflicting information on diet, nutrition and health which has led to a certainty in the wisdom of Nature. In other words, living our lives in a natural way including eating food as our ancestors would have e.g organic, seasonal and minimally processed, is the key to health.