I am guessing I am not the only person who is guilty of leaving the carrots to go floppy in the bottom of my fridge vegetable drawer.  I even have a row left over in my veg patch that I keep ignoring.   Why is it that my kids groan slightly when I say we are having carrots for supper?  I have decided that I need to address this and so have been collecting carrot ideas in order to use them whilst they are still fresh, vibrant and full of nutrition.  Things are going to change at my place and I thought I'd share my findings with you.
Riverford Organic Farmers are one group who are very keen on carrots and they have so many great recipes and ideas on their website.
They can be incorporated into soups, not just the classic carrot and coriander but how about carrot and Jerusalem artichoke soup?  They can be incorporated into cake, not just carrot cake with its delicious cream cheese topping but check out ginger and walnut carrot cake or Nigella's cheeky carrot cake (with sherry!).
If sandwiches are your thing, then you could mix grated carrot and cheese together, perhaps with a spoonful of mango chutney or mayonnaise.
To dress a bowl of raw grated carrots, try one of these tasty options:
Add a few sesame seeds and mix with a little salt and nice peppery olive oil
Add some chickpeas, chopped parsley, lemon juice, a little salt and olive oil
Add a little grated ginger, a pinch of cardamom and a squeeze of lemon juice
Add lime juice, poppy seeds, olive oil, salt and pepper
Add pumpkin seeds, sultanas, toasted cumin seeds and lemon juice
Add grated raw beetroot, toasted crushed coriander seeds and salt & pepper
Add lime juice, garlic, Sriracha chilli sauce, a tiny bit of sugar and fresh coriander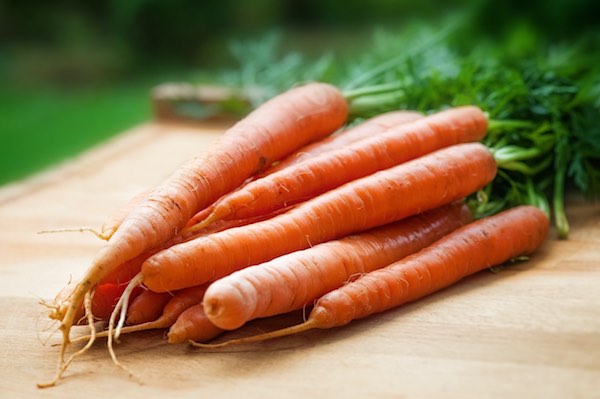 Carrots planted in late spring/early summer are pulled from the ground in the autumn and early winter.  Some varieties are grown for flavour and interest rather than consistency and size, so if your family reject standard supermarket carrots don't rule out carrots entirely based on the supermarket version, explore other types and give them another chance.  There are yellow and purple carrots, short ones, sweet ones, really carrot-y ones too.
Fresh young summer carrots are sweet and delicious and very easy raw.  If you happen to get carrots with the green tops still attached, it is actually better to chop them off to store them in the fridge.  That way the carrots don't loose so much moisture and will last longer but there is no need to peel the skins, especially if they are also organic.  You could just clean them, cut them into sticks to dunk into dip, or into finer matchsticks, or grated or even sliced into slithers using a peeler or mandolin.  Then comes the creative part – what to dress them with and how to add them to your meal.
Early in the season the skin is still sweet but later on in the winter they tend to get bitter and the carrots taste better peeled.  In winter perhaps it feels right to eat warm food and carrots are great cooked too.
There are so many ways to tempt the family into enjoying this vegetable.  As a side-dish you could just chop and steam carrots, served with a knob of real butter.  Or you could get a little fancier and try roasting carrots plain in a little fat/oil or with other things that compliment their flavour, such as fennel or cumin seeds, rosemary or thyme.  Adding a swirl of honey just before the end of cooking brings extra sweetness.  Carrot and swede mash is just perfect with a roast and something crunchy and green alongside like broccoli.  Or a special occasion carrot side-dish involves frying sliced carrots with garlic, fresh ginger, ground turmeric, coriander and cumin seeds and some chilli.  Certainly sounds delicious!
You can disguise them by adding grated carrots to your onions and celery as you start making a hearty slow-cooked stew or bolognaise.  Or you could be more open about it and make it the main event, say in a fritter, where you mix grated carrots with grated onion, a little flour, a little chopped herb and some seasoning before you press the mixture into small patties and fry until golden.   One quick supper is a mix of stir-fried vegetable slivers cut using the peeler, or added to a delicious clear broth and then popped on a bed of noodles with a flourish of chopped spring onions and coriander on the top.
Leftover carrots are full of resistant starch and are great added into stock or into other dishes like risottos or dhal.  Or you could grate left over carrot into your sandwich or salad for lunch tomorrow.  Or even whizz it up in your breakfast smoothie – with some frozen mango, not even the kids would suspect.
No more floppy boring carrots for me… how about you?
Post by: Jules Weldon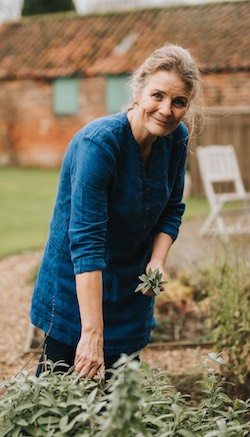 I grew up with home-grown fruit and vegetables, home-cooked food and lots of time to scamper about outside. I've always been passionate about real food. Yet when I was faced with supporting my daughter born with brain damage, my passion turned to devoted study and application. I discovered the power of food to facilitate her neuroplasticity and neurogenesis for recovery. 
My bookshelves are groaning with healing food and recipe books.  The information we receive is so confusing and complicated, with so much marketing spin it feels like a fairground.  I have come to know through experience that if we just stick to the simple message of 'enjoy real food', most of us will be well nourished and thus fairly resilient health-wise.
I work to support unpaid carers and I am also a professional member of the National Institute of Medical Herbalists. I run an online group called Stay Well Simply, teach fermenting 101 classes, bang on about informed choice and real food, and during the growing season I lead folk on little adventures to connect with plants' gifts.  Nature inspires my life and work.
Find Jules on FaceBook – Stay Well Simply @OldNortonEstate